Bloggers Talk Finance, Trends at FinCon17
Going to FinCon usually means a great week catching up on the latest trends and tech for personal finance. Thanks to fellow blogger and FinCon founder, 
Philip Taylor
– his team ran another outstanding show for 1500+ professionals from around the world.
FinCon17 was as much fun as Berkshire Hathaway's annual meeting – and my regular opportunity to…
Meet blogger friends – so many truly interested in making a difference in financial lives (see below)
Learn plenty – great tips, new tech and trends from expert workshop leaders and keynote speakers, and
Get inspiration for new projects – and motivation to execute asap.
My 6 takeaways from FinCon17:
Podcasts and online courses are trending – and doable. Thanks for the inspiration, Ankur at Teachable and Steve Stewart.
Side hustles never go out of style. Had a chance to meet author Chris Guillebeau and realized I shouldn't limit Entrepreneur Extraordinaire to just for kids.
Being small isn't a drawback to building wealth. Savings apps are broadening scope – like Smarty Pig and blooom. New investing apps are courting smaller investors – Stash, Acorns, Stockpile, to name a few. Glad to know Stock Market Pie is relevant and can continue to help beginning investors.
Most of us are looking for new ways to get more done in a day and bring new products to market. Learned so much from pros like Darren Rowse Kylie Travers, Kine Corder, Liz Stapleton.
Creating good "hands-on" tools makes bigger impact when teaching about money –  NEFE's exhibit with larger-than-life games was awesome.
Was thrilled to get a signed copy of The Automatic Millionaire from one of my favorite financial gurus, 9 times best-selling author David Bach (who resurrected his newsletter – 3 Minute Sunday – as we talked). I love his newsletter, by the way – quick tips, always applicable.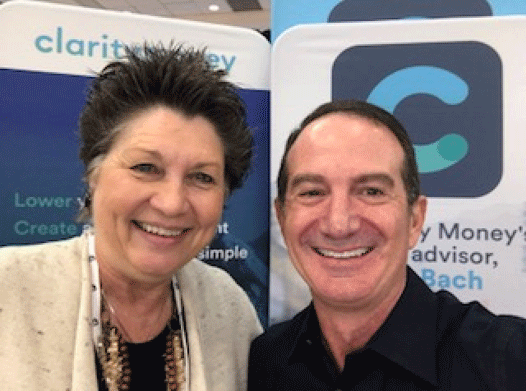 Photo Credit: David Bach

Fun FinCon moments:
Investors – Found several colleagues who love to talk market ups/downs and buys/sells – Thanks for great discussions Jason, John and Sharon, Tara, Joe, Craig.
FinCon Trivia Night – what a blast (our team won)! Thanks, Elevate, for the great prizes.
Rap artist Dee-1 – over 1,500 bloggers jamming to Pay Sallie Mae Back.
Walking Downtown Dallas – to discover great burgers with Chris and Anthony. (Interview on timeshares later!)
Pecan Lodge BBQ – great chat over the best BBQ in Dallas with Talia and Simeon, but only after standing in line with a couple of other entrepreneurs from California for over 45 minutes (but who's counting when it's fantastic conversation?!)
Seeing my younger-ish self – thanks caricature artist Bob O'Brian @ Student Loan Hero – you're better than a plastic surgeon!
Many new posts to write. Stay tuned for interviews and more!
SaveSaveSaveSaveSaveSave